I have been looking to make a romper that is suitable for my curves. These are some images of suitable rompers with an elegant twist. This is exactly what I need to add to my summer wardrobe. Check this out: A white deep v-neckline plunge with side cutouts and sleeves that move with the wind.
Then we have Eva Longoria sporting an emarald green long sleeved crossover top jumpsuit with fitted shorts. I love how she is rocking this look with neutral colored strappy heels.
Finally, this black and white halter-style romper with unique racer back straps. It has a hidden zipper on center back and elasticized waistline.
Overall, I would like to sew a romper that can double for casual or out for the night. These are some patterns that I have to help me achieve my fancy romper:
Vogue 1308 McCall's 6969
Simplicity 1373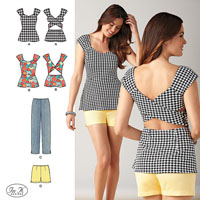 Yes, the simplicity pattern 1373 can be customized as a romper by doing some radical moves to the top. First, use the back as the front (both views) and re-draft the back to scoop just below the shoulder blades and close the open back. At the waistline, remove the fabric as directed and add 1.5 inches. Lastly, add the shorts (view D) to the top. Based on my brainstorming, I should have something that looks like this:
Or, I can go vintage with this recent purchase:
Either way, I need to add a romper/playsuit to my closet to beat the heat in style.
See you later!!